Direct Digital Access Program
---
The CSM College Store, in partnership with multiple publishers, has developed a program that offers students direct access to their course materials through myLearning, powered by Desire2Learn (D2L) Brightspace. With this program, students pay a fee during registration which provides digital access to their course materials one week prior to the start of their class. The goals of this initiative are to (1) provide students with more affordable course materials, and (2) improve educational outcomes for students and enhance the student experience on a common digital platform via myLearning.
How it works
Students are sent an email before classes begin with instructions on how to access their digital course material content. Access to the content is through myLearning and available one week before the first day of class.
Students who do not wish to participate in the program may Opt-Out by the deadline in order to receive a refund to their student account.
Use the course number and section to access your materials on myLearning. The Direct Digital Access program gives students everything they need to succeed, a week before the first day of class.
Direct Digital Access FAQ
What is Direct Digital Access?
The Direct Digital Access program is a new textbook model in collaboration with top publishers that seeks to provide timely course materials to students at the lowest possible price. All students in a class buy into the content, lowering the cost for everyone. All students in that class also get access to the content one week prior to the start of their course.
How much does Direct Digital Access cost?
The price varies depending upon the course materials chosen by the instructor, but most are priced at an average of 30% - 60% off the cost of a printed text.
How do I get my textbook or access code?
Once myLearning is open for the semester, you will have access to your course materials automatically. In your course in myLearning, go to the content area and click on the Ebook module. Click that link to go to the page for your course materials, and follow the instructions on that page. You do not need to purchase anything in the CSM College Store or online; your course materials will automatically be available to you in myLearning
Clicking on the link in myLearning took me to an access code for a website. Now what do I do?
See the instructions listed below the access code in RedShelf and in the emails you received from the CSM College Store.
<![if !supportLists]> 1. <![endif]>Click through the RedShelf tool in the course content area.
<![if !supportLists]> 2. <![endif]>On your "My Courses" page, locate the course for which you need an Access Code, and click "View Course Materials"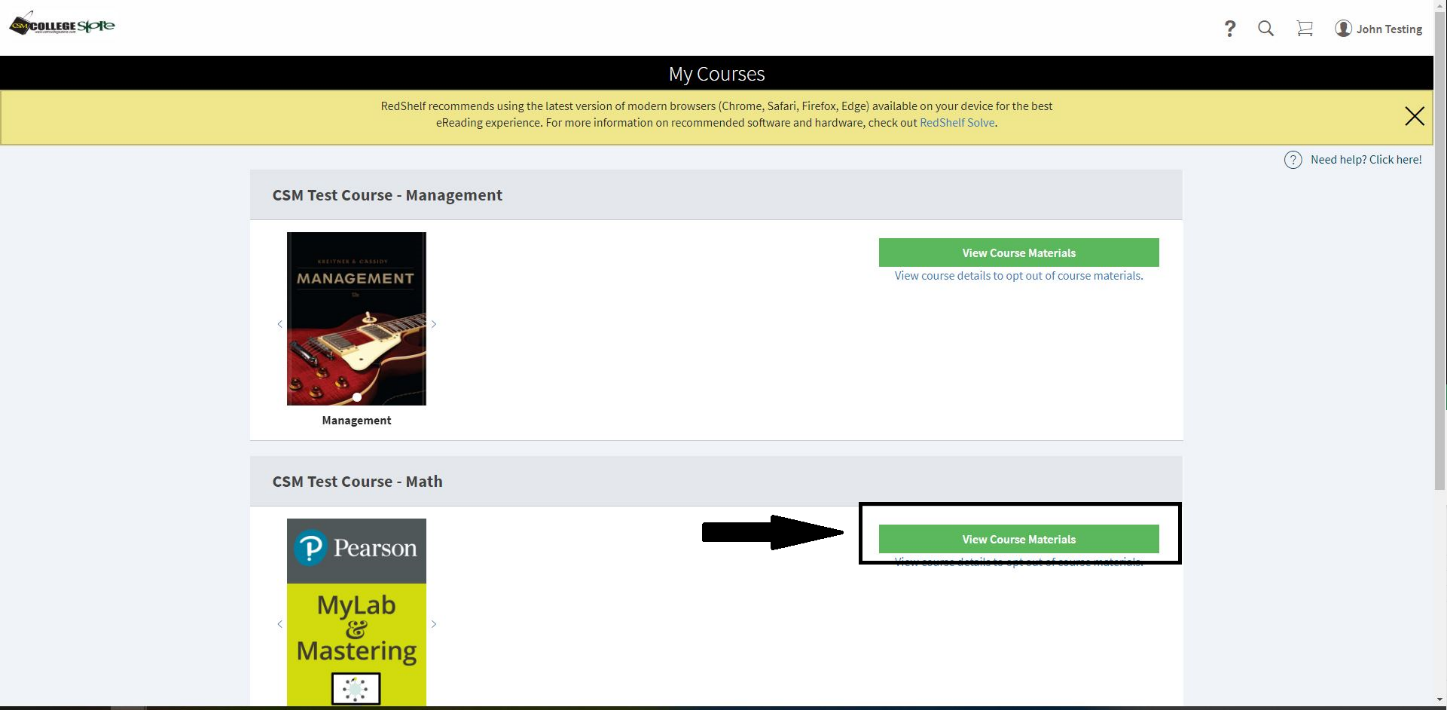 <![if !supportLists]> 3. <![endif]>Click the "Acquire Code" button.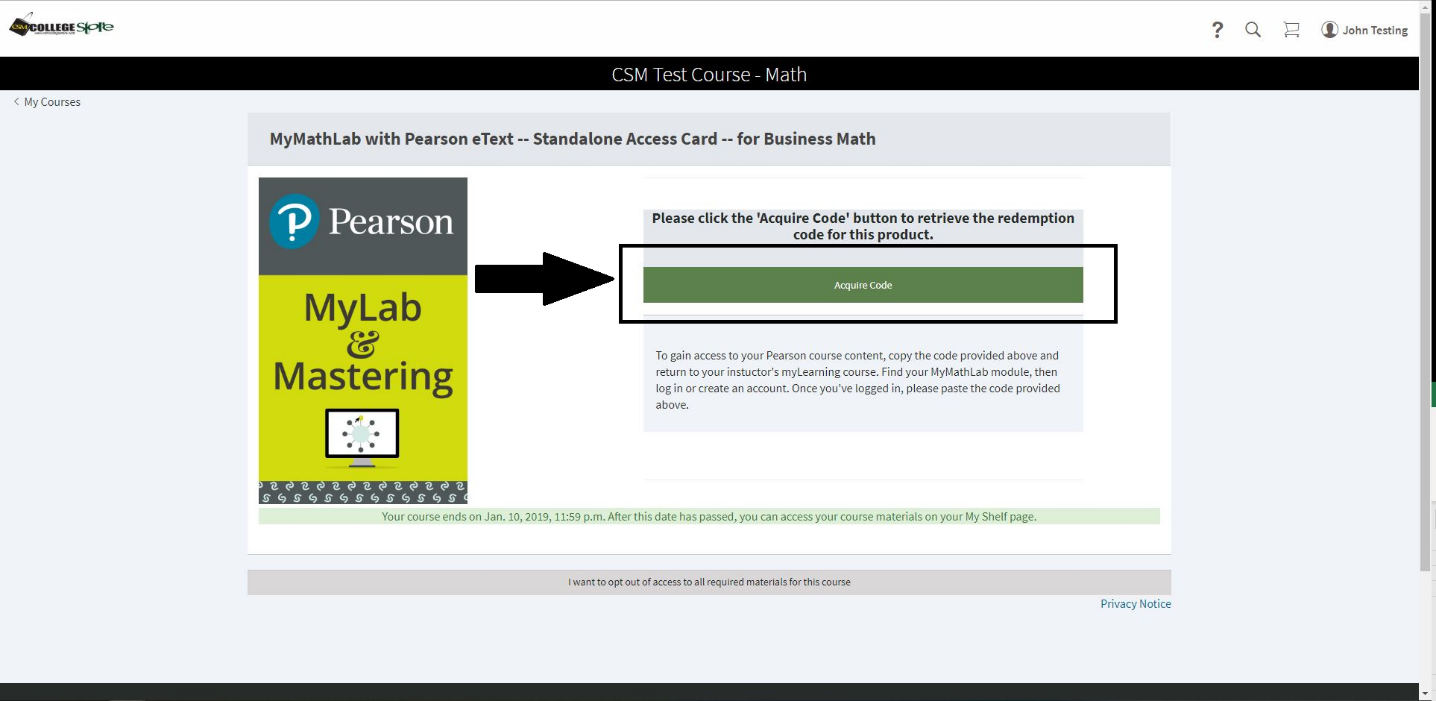 <![if !supportLists]> 4. <![endif]>Copy the Access Code provided and follow the unique instructions the publisher has provided below your Access Code.
What does it mean to opt-out?
The Direct Digital Access program at CSM automatically provides you with your books or course materials through a link in myLearning, but it is optional to participate. If you do not want to keep the course materials provided through Direct Digital Access, you may choose to decline this service (opt out) and purchase your materials in another way. You must opt out by the opt-out deadline listed in our communications with you. If you opt out by the deadline, access to the online content will be turned off and a refund will be issued to your student account. Keep in mind that it is rarely possible to find the same materials at a lower price.
How do I opt out?
To opt out, log into RedShelf, go to the My Courses page, and select your course. At the bottom of the page, click the grey "I want to opt out of access to all required materials for this course" button. If you opt out by the deadline, your student account be credited.
I opted out by mistake. Can I opt back in?
Yes! If it's before the deadline date we've communicated, you can opt back in by going to the RedShelf site again. If it's after the deadline, just email us at bksasst@csmd.edu for access instructions.
Include your student id number, Course (e.g. 'ENG 1010), and section number.
I dropped the course. Can I get a refund for the course materials provided through Direct Digital Access?
If you drop the course before the opt-out deadline, you will automatically be opted out, and we will credit your student account.
I forgot to opt out and missed the deadline. Can I get a refund now?
Refunds will not be issued after the opt-out deadline.
How do I get help if I'm having trouble with access to a publisher learning platform (publisher websites outside of RedShelf or myLearning)?
For help with publisher online content, please contact the publisher's online help team:
Cengage (MindTap or Aplia): http://support.cengage.com/victoriaweb/primarypage
Macmillan (Sapling or Launchpad): https://community.macmillan.com/community/digital-product-support/college-students-support-community
McGraw-Hill (Connect): http://www.mhhe.com/support
Norton (Total Access): https://helpdesk.wwnorton.com/external/helpdeskrequest.aspx
Pearson (MyLabs or Mastering): http://247pearsoned.custhelp.com/app/contact
Wiley (WileyPlus): http://wileyplus.wiley.com/student-resources-support/
I already have access to the online platform from a previous course. Can I continue without paying twice?
If you are in a continuing series course (for example, if you took SPA 1010 and paid for access, and you are now taking SPA 1020 and your access is still good), you can log in with your original account and simply assign your new course ID to access the homework. If your current section does not require the homework, you can still use the platform's self-study tools and you do not need a new course ID.
I didn't get an email about my course, but other students in my class did. Was I sent an email?
All enrolled students are emailed about the program. If it is not in a spam folder or was accidentally deleted, email the Direct Digital Access team at bksasst@csmd.edu for access instructions.
I have further questions that were not addressed. Who do I contact?
If your question wasn't answered in this FAQ, please email bksasst@csmd.edu for more information.